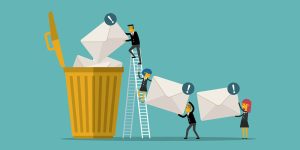 Let's face it: the generic monthly e-newsletter doesn't cut it anymore. Your subscribers quietly trash your content and move on with their day.  
Expectations for digital marketing soared as the pandemic drove customers to this avenue of lead generation. Consumer email marketing led the way and now B2B needs to catch up.  
It's time for B2B email marketing to also personalize the digital experience to match consumer retail experiences. Small changes can have a big impact. Marketers who use segmented email campaigns, tailored to different groups, secure as much as a 760% increase in revenue compared to those who used a one-size fits all approach according to CampaignMonitor.  
3 Tips to Maximize Lead Nurturing:
1. Use it or Lose it
You have solid data about your subscribers, so use it. Develop good data hygiene that's not complex. Email segmentation tools built into your CRM (tags, coding, etc.) can provide many layers of integrated functionality. These systems are ideal if you have them, but the most important thing is to start using tags and use them consistently. Segment your audience using data already available, such as their industry or recent activity with your website content. Ask yourself: At what stage of the buy cycle are your targets responding—first contact, looking for in–depth info, or ready to buy? Create simple categories you can manage consistently because accuracy trumps complexity! 
2. Don't Bring a Knife to a Gun Fight
Use the right content. At the right time. For each segment. Address their unique needs, challenges, goals. Fine-tune your messages to meet them where they are in the buyer journey. The duration and spacing of a campaign varies by the length of that industry's sales cycle. In the industries HCI serves, the sales cycles are longer. Campaigns typically include 6-10 well-spaced email touch points (although the first email to a new subscriber should be sent within 24 hours). Use content appropriate for each stage of the campaign and buyer journey. Guides and tip-sheets tend to work best for early-stage prospects, while demo videos and technical spec sheets work best for engaged leads further down the sales funnel.  
And here's a quick tip: in addition to offering the right piece of content at each touch point, use a "contact sales" option as a shortcut for leads that may be ready to buy.  
3. Don't Ghost Your Reader
You were chatting and then suddenly act like you don't know them at all—this is the effect of an impersonal landing page. Email is part of an integrated digital marketing experience, and it doesn't end with the email message. You've befriended your reader. Now hold their hand and guide them through the entire user journey. And, when your email content links to landing pages, make the user experience seamless with a continued conversation through to the thank you page. Visual consistency is important, but content and messaging personalize the experience. You can even integrate your email content across other channels, like social feeds, to increase its reach and remind your followers of your recent interaction with them.  
Results
Personalize the experience and email marketing can be one of your most effective sales tools. We used these methods for one of our clients. The results spoke for themselves:  
"We asked HCI Marketing and Communications to promote our webinar through an owned and paid email campaign, media outreach and social media. Ten days before the event we already quadrupled the number of attendees expected. And the quality of attendees was exceptional: major manufacturers, supply chain companies and relevant media groups. Outstanding results!" 
—Brad Poston, Marketing Communications, Teradyne 
Tired of tired newsletters? Ask how we can help you with your email marketing campaign.