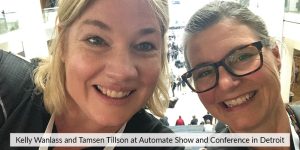 Early in the COVID-19 pandemic, we blogged about a common experience: virtual events were a necessity, but they didn't hold a candle to in-person meetings. We recently returned from the Automate Show and Conference in Detroit, one of the first large in-person conferences since 2020, and want to circle back to celebrate how exhilarating it is to get together again. Let's revisit the professional benefits of in-person gatherings.
The HCI team experienced four whirlwind days at the massive Huntington Place Convention Center in Detroit, which hosted 24,000 registrants, 600 exhibitors and hundreds of sessions, presentations, awards and galas. We provided public relations (PR) support and social media coverage for the event organizer, the Association for Advancing Automation as well as several automation and robotics clients—Formic, Micropsi Industries, Mobile Industrial Robots (MiR), and Mujin Corp.
The "We're back!" buzz from the crowd was louder than the beep, hum and whirl of the thousands of robots—robots that hefted flashy sports cars to tiny USB cables, that welded, sorted, stacked pallets, cooked donuts, fed conveyers, and made safe and polite detours around anything in their path. (We're talking about you, MiR100!)
Our team worked, dined, and bonded with show participants—and each other. HCI is a virtual company with staff in Canada, the United States and Europe. Just as we hadn't seen our clients in person in many moons, we had not seen one another.
While we happily work from our home offices, we were reminded repeatedly how valuable it is to meet face to face occasionally and were grateful for the opportunity presented by Automate 2022. What we accomplished in Detroit could not be repicated on Zoom.
Six Automate 2022 things Zoom could not accomplish:
Watch automation industry news unfold in real time. The show was a triumphant post-pandemic return and the most successful show in A3's history, and it felt like it. Hundreds of companies shared their innovations while attendees took the time to listen to the educational sessions—many were standing room only
Run into cherished reporters for a quick catch-up—connect with others and get them to chat with our clients too!
Revel in deep, undisturbed focus that germinates and accelerates ideas, plans and dreams
Participate in high-level strategy session—yes, those happen daily on Zoom but holding them in person unlocks new levels of productivity and results
Discover something in common with the stranger next to you in line or, even better, offer a few recommendations (and a business card) on how to promote their new B2B tech startup
Just be together and talk about work or children, pets, sports or hobbies during dinner. No one gets caught in the rain together over Zoom, right?
While we love that HCI is a virtual agency with a team that deeply understands how to get the most out of Zoom and email and is far-flung across the globe, we hope we are never again in a public health crisis that entirely wipes out in-person gatherings. Human interaction is essential to personal and professional growth.
Looking for PR or social media strategy and tactics for your next event? Get in touch. We'd love to help.