By now, you've likely attended or tried to "exhibit" [air quotes, right?] at a virtual conference or tradeshow and realized some key things, like we have. First, you simply can't engage people over Zoom the same way you do at a conference or tradeshow. In-person industry events get people away from everyday distractions and are wonderful for building relationships and exploring important topics in greater depth. In comparison, a remote event is just another day at the office, another looooong day in front of the computer.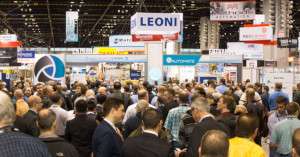 Everyone is frustrated. Like schoolteachers struggling to engage little ones remotely, your salespeople and marketers working a virtual tradeshow booth are out of their element and untrained in how to get people's attention with live chat. And, event organizers haven't found the answer yet, but are collecting lots of learnings about what doesn't work.
Industry events set the stage for new and strengthened relationships. The consensus is that remote events need a social element to promote professional networking—beyond the sharing of product information. Logging into a webinar and a collection of company web pages doesn't tickle the senses or build connections.
How to connect
It's time to create your own agenda, whether within the structure of the event or alongside. As an exhibitor, you can make use of the advertising and marketing provided by the event organizers while doing your own thing. Most important, think outside of the virtual box.
Succeeding at virtual events requires innovative and integrated marketing strategy. At HCI Marketing and Communications, we apply creativity and tap relationships every year to deliver for every client attending an in-person or virtual industry conference. The foundation is the same: an integrated marketing plan surrounding our client's participation in the event—whether the client sponsors, speaks, or exhibits.
When approaching any event, in person or virtual, we look for ways to engage buyers, engineers, executives, and influencers on behalf of our clients. We secure speaking opportunities and develop engaging presentations. We create valuable content and place contributed articles. We find ways to bring our clients together with the right people. And we drive the client's message across multiple channels to increase impact and generate results.
Collaborate with us
Ready to learn more about how HCI can help you get more from remote events?