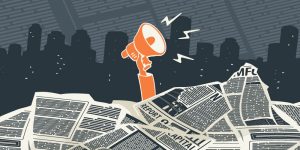 Public relations has changed dramatically in the last 25 years. Back in the day, it was easy. Yahoo!, Netflix, Napster, Expedia, and Facebook were up-and-coming brands. Everything in the technology industry was groundbreaking and newsworthy. There were loads of print publications and the ONLY way to the target markets' readers was through the pubs. With such fierce competition, the media landscape was thirsty for information about every startup. Pitching these stories seemed effortless—like having the media coverage gods on your shoulder with every phone call.
The shift began with the economy crunch of 2008-9. Companies under fiscal constraint withdrew advertising from print media. Marketing automation tools advanced to the point that companies could do their own media outreach. A number of publications disappeared or were swallowed up by larger publications. Competition tightened.
By 2015, placing technology media coverage was a real challenge. The media ecosystem was clogged by blockchain, cryptocurrency and "fake news". Paid and owned media coverage became a larger part PR. Take us to 2022 and we now live in a noisy news world of misinformation, extremely biased opinions and random content.
And technology has become more complex. Developments in technologies like industrial robotics, AI and embedded electronics have massive impacts on economics and daily consumer behaviors. Yet these news stories can seem dry or overly technical when competing with the next iPhone release or crypto craze.
So how do PR professionals like us get our jobs done in a new world order of chaos and news that doesn't seem like news? Here are a few tips:
Tips for Quality Media Coverage:
Keep pitching hard news when you have it. Oftentimes the news won't get media coverage but sparks interest in another aspect of your client's story.
Think pieces often get placed as editorial content, so keep insightful thought leadership content in all your PR plans.
Make sure you have your finger on the pulse of how the media covers your client's industry. If you can latch your client onto timely news, you can generate earned media coverage.
Push past the generic message. The media is inundated with thousands of emails from PR people. Give your editors something to hang their story on – a hook, recent event or news, a customer experience, some real metrics of development time saved, return on investment, a novel application of the technology. Editors needs some flavor, candor to set your client apart and pique interest.
Offer your clients as experts to provide insight, commentary on the subject matters where they have expertise. Once you build that rapport, reporters frequently turn to reliable sources for comments on various stories they are chasing.
At the end of the day, journalists need stories as much as clients need to share their news. Taking the time to build relationships with journalists and editors who cover your specific niche makes all the difference in securing coverage.
If you don't have the time and resources for this, a partner agency, like HCI Marketing & Communications, with existing media relationships in your market verticals can offer unparalleled value to jump start your PR plans. Let us know how we can help.